| ORION-PLUTO by the sea | Honeymoon Cottage | Sea Pine Cottage |
ORION and PLUTO audition by the sea
Before you commit to purchase or build the ORION or PLUTO you might want to spend extended time listening to it. Here is an opportunity to combine this with a vacation in Northern California. I have set up the ORION+ System in my vacation home - Honeymoon Cottage - in Sea Ranch, 3 hours north of San Francisco on coastal Highway 1. Sea Ranch is famous for its architecture, blending buildings with natural settings. It is a great place to reconnect to the beauty of nature, to relax and to rejuvenate.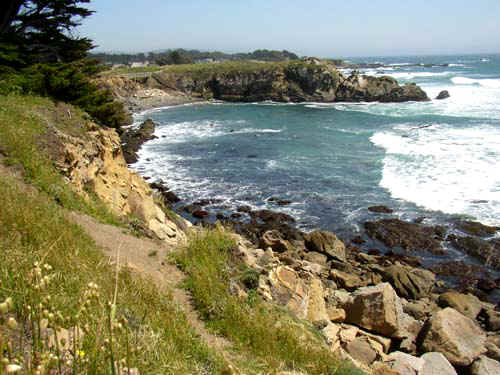 A cove near Sea Pine Cottage where PLUTO-2 is set up.
The red ORION System that you have seen in other places on this website has found its home in Honeymoon Cottage. The barn like, post and beam structure with very high ceilings, provides a good acoustic environment for the speakers. Bring your favorite CD's, CD-R, SACD or DVD-A and lose yourself in music against the beautiful backdrop of the ocean. What better place to take your "significant other" and melt away objections to having those speakers in your own place.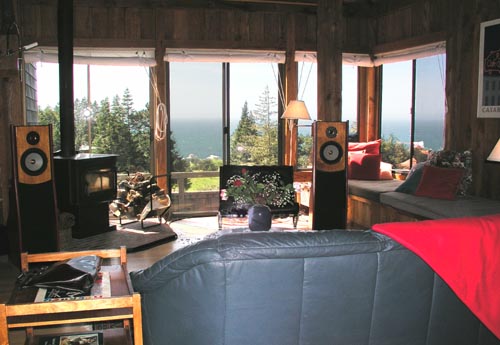 View towards the Pacific, speakers and wood stove.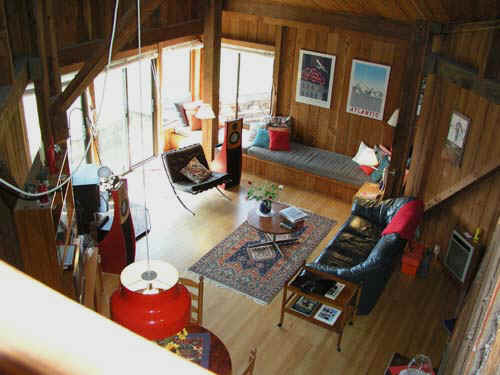 View from the sleeping loft into the listening space.
A dining area is under the big red lamp, a kitchen area is behind the lower right,
a bathroom behind the lower left, a balcony and hot tub are outside the windows.
PLUTO is set up in Sea Pine Cottage.
You can rent Honeymoon Cottage or Sea Pine Cottage by contacting Linkwitz Rentals. Honeymoon Cottage has been sold.
| | |
| --- | --- |
| | The ORION-3.3 and PLUTO-2.1 systems can also be auditioned by appointment at my home in Corte Madera, California, 10 miles north of San Francisco. |
| ORION-PLUTO by the sea | Honeymoon Cottage | Sea Pine Cottage |