Digital Stereo Sound System
A music playback system with outstanding performance, yet economical in price, can be assembled with a computer as the media center. Music is streamed via USB to a miniDSP 4x10 Hd, which act as preamplifier with volume control, with digital or analog input selection, crossover and equalizer for the LX521. The output of the 4x10 Hd provides woofer and midrange/tweeter signals to four power amplifier channels to drive left and right LXmini.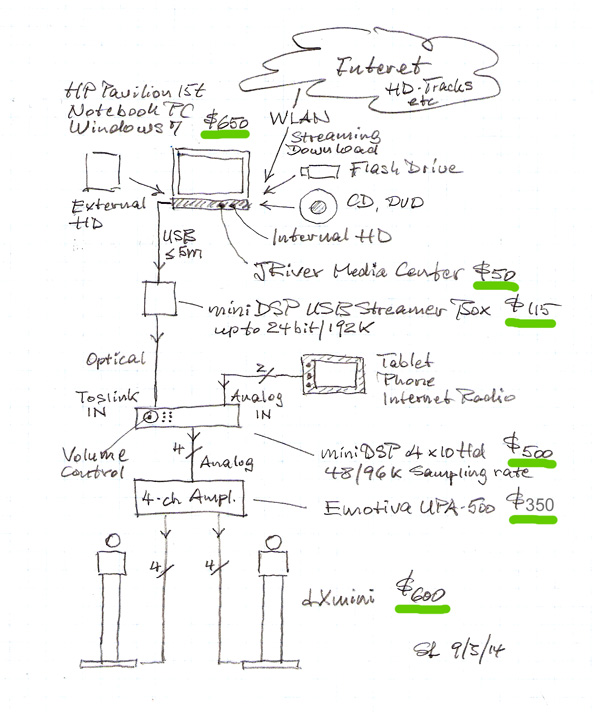 This sound system will be demonstrated in Room 418 at the Rocky Mountain Audio Fest 2014 in Denver, CO.
A reference quality stereo sound system
There are many options for assembling a reference quality sound system using the LXmini speakers. In the example below I use an OPPO universal disk player's superb analog output to drive the miniDSP 2x4. The green underlined prices add up to $2365.
Replacing the miniDSP 2x4 with a miniDSP 4x10Hd would add $385, for a total of $2750. You can now take the digital output from the OPPO to drive the miniDSP 4x10Hd and avoid the D/A conversion in the OPPO and the A/D conversion of the miniDSP 2x4. These conversions cannot help with system performance, but I cannot say that I hear a degradation.
Note the cost effectiveness of the Notebook PC based Digital Stereo Sound System above at $2265, as compared to the $2750 OPPO based system, while either one provides the LXmini's highest performance level.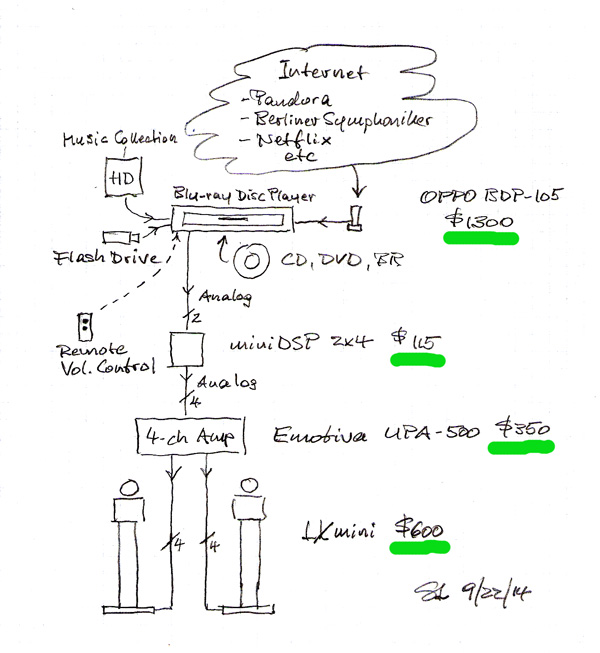 Instead of the OPPO you could use an iPad or smart phone, if that is where you keep your music collection or where you stream music from the Internet. These devices have a built-in volume control, which must be used when driving the miniDSP 2x4 directly, without a preamplifier.
Generally, the required LXmini crossover/equalizing can be realised in the analog domain (ASP based) or in the digital domain (DSP based)

DSP based crossovers (Nov 2018) are e.g:
Mini DSP 2x4 , 2x4HD, 4x10HD

PowerBox 4180

Includes high-end DSP, remote volume control, preamp and 4 power amps from Hypex. Line-out plugs may connect to an external woofer amplifier (LXmini+2) : €1890