RMAF 2015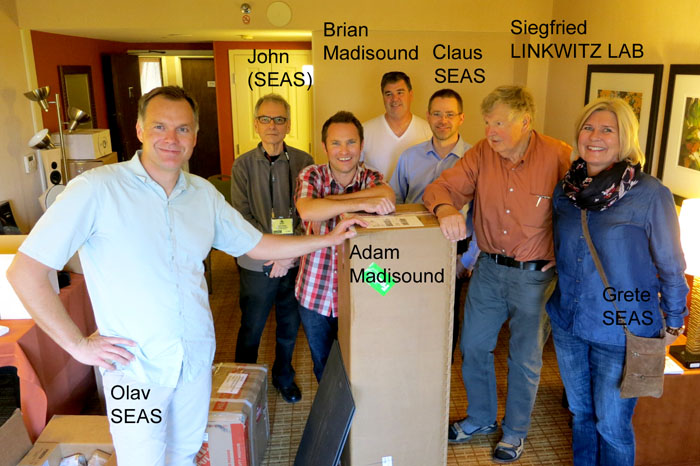 The crew packing up - Thank you all
| | |
| --- | --- |
| Eike handed out these tickets with demo times for LX521.4 and LXmini | Look what can be done with them. |
| My corner for playing music from the laptop | The LX521.4 are active |
| Describing the LXmini | ... and the MiniDSP |
| Don Naples is giving me a break | ... and explaining something |
| Brian Lenhart and Jeff Bookwalter from OPLUG | Q&A session for DIY builders |
| LX521.4 demo | How loud is it? |
Adam and Brian from Madisound

My wife Eike, the photographer, is finally in a picture

And here for my curiosity and technical interest ...
I looked forward to the Kii Three loudspeaker's US Premiere, because of its cardioid acoustic design and electronic features. I have claimed that omni, cardioid and dipole radiators are optimal for acoustically small rooms. Omnis are maximally interactive with the room and least desirable of the three. Cardioid and dipole set up a 4.8 dB lower reverberant sound field for the same on-axis SPL.

But the spatial rendering and the tonal balance in the demo here were not as I hear them in a live performance, though clarity was outstanding. The musical magic of an LX521 or LXmini was missing. I still believe that it should be obtainable because of the Three's radiation pattern. I hope to get another chance to hear this otherwise very promising speaker and to settle in my mind its auditory benefits or disadvantages over a dipole.