My current audio and video setups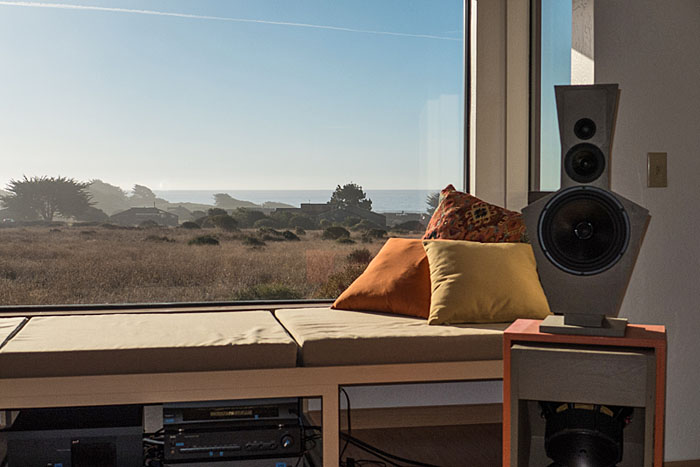 December, 2013

In our vacation home on the Pacific Coast of Northern California I have set up both, the LX521 and the PLUTO, loudspeaker systems.
Our new "Vista Room" with a sweeping view towards the ocean is also a great music room day or night. The TV screen sits on a rolling cart and can be moved between the speakers for watching movies from a large L-shaped sofa/queen bed. Four steps lead into the room behind the sofa, coming from the hallway to the right of the photo. Thus the wall at 50" (1.25 m) behind the listener is not as far removed as I would have wanted. We had to stay within building restrictions. But I am very satisfied with the sound. It has an intimate feeling.

As source for various disc formats I use the Oppo BDP-95. I bring a WD 1 TB hard drive with more music files from home. My Nexus 4 phone with a "TuneIn Radio" app provides Internet radio stations. A NAD preamp sets the volume and a AT6012 provides amplification.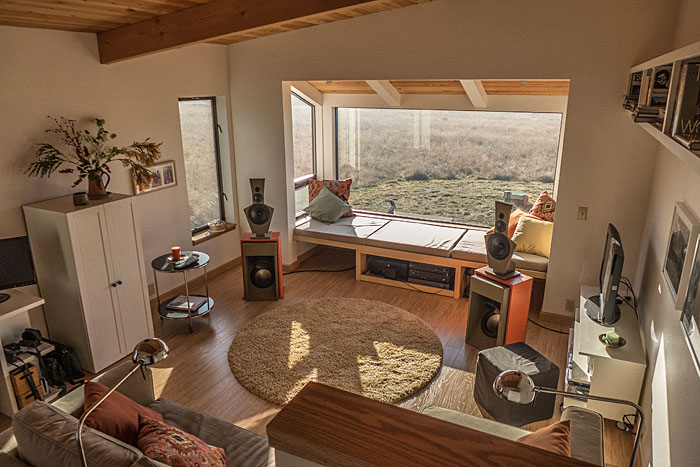 PLUTO resides in a separate living area, which is open to the dining area on the left and the kitchen behind the viewer. For optimum imaging performance the speakers can be pulled forward, but this is rarely done. Audio input to the system is from a CD/DVD player, iPod, audio and video cassette tape players (!) or TV.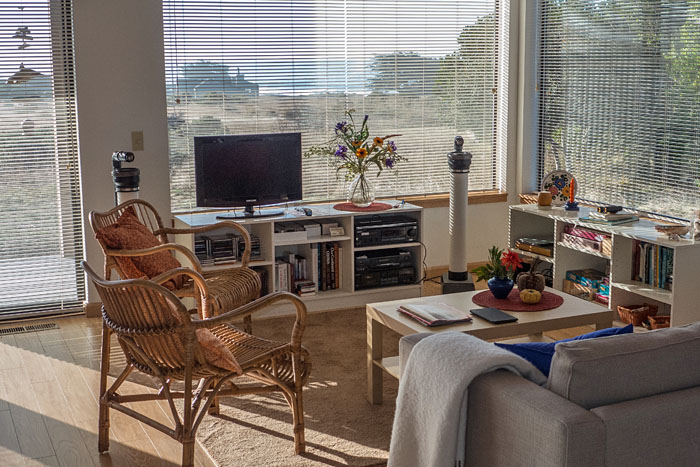 ===================================================
Past setups in vacation cottages on the coast
View from the sleeping loft into the living room of "Honeymoon Cottage" at The Sea Ranch, CA, on the Pacific Coast.

Living room of HMC with ORION loudspeakers.
The cottage was sold in 2010.

PLUTO loudspeakers in "Sea Pine Cottage", which is close to the ocean in Sea Ranch.

The cottage has been remodeled and enlarged to also accommodate LX521 loudspeakers.
=================================================================