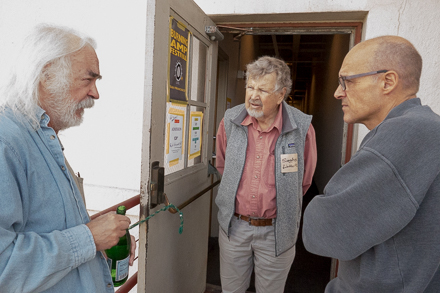 Nelson Pass - Siegfried Linkwitz - Frank Brenner
At this year's Burning Amp we demonstrated the 3-way LXmini+2 loudspeakers with an analog, active crossover/equalizer (ASP). Nelson had felt challenged to take my original DSP solution and to approximate its transfer functions with a circuit, which only uses unity gain JFET buffer stages of very low distortion and minimal circuitry in his typical Zen-like fashion. Some compromises in the high frequency equalization where necessary. We made minor adjustments until we were both pleased with what we heard.

Frank Brenner and I took the transfer functions so derived and implemented them in a circuit with operational amplifiers, which is the ASP, combined with 6 Hypex NCore amplifiers in his new PowerBox prototype. This is what we played at BA-2017.

If we all do not look too happy in the picture on the left, it is because we have turn-on problems with a second LXmini system that we brought but had no chance to check out beforehand and which was to use Nelson's new 3-way pcb. Frank's PowerBox rescued the day.

Nelson's LXmini and LXmini+2 circuit boards and component kits will become available via diyaudiostore.com/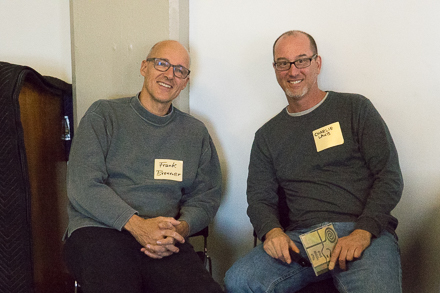 Charlie Laub, right, the prime organizer of BA-2017, who we shared the room with in demonstrating our speakers. He gave us generous time.

This was the best Burning Amp festival that I experienced. Congratulations Charlie and to the many volunteer helpers.
Mark Cronander even came from Costa Rica. He had to support his baby. And then there is Nelson Pass, who quietly encouraged everyone in the organization and who gave most generous material support to the event.

Thank you all!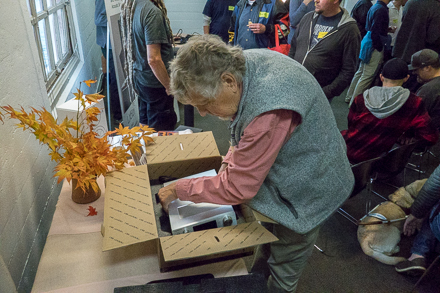 Time to pack up, drive home and rest up.

I could not have done the show this year without Frank's help and most importantly without my angel of six decades, Eike.

Since she took the photos she is not in any. But here she is at our beloved Sea Ranch.

I am turning 82 on this Thanksgiving Day and maybe it's time for Frank (www.magicLX521.com) to carry the open-baffle and neutral-sound-dispersion flag forward.